Stock Pump
Manufacturers & Exporters of Stock Pumps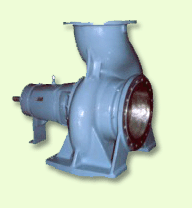 MEDIUM CONSISTENCY BLEACHING SYSTEMS                                                             
Capacity         : 25 - 150 m3/hr
MOC               : WCB, St. Steel, Haste-C, Titanium
STOCK PUMPS           
Capacity         : 200-800 m3/hr
Consistency   : 2.5 – 4 %
Detailed description:
1)       Cantilevered, horizontal, centrifugal, one stage, single casing
2)       High efficiency.
3)       Good NPSH performance.
4)       Widely application: They are designed for handling Pulp in various consistencies
5)       Long bearing life: The bearing assembly is with large diameter shaft and short overhang.
6)       Wear resistant wet parts: Carefully selected MOC.
7)       Simple maintenance.
8)       Easy adjustment of impeller.
9)       Gland Packing , Mechanical seal options are available.