Brine Pump
Manufacturers & Exporters of Brine Pumps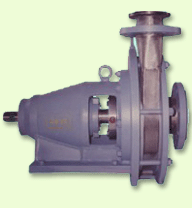 Discharge size: 100 to 450mm 
Capacity: to 5400m3/h (10 to 1500L/S) 
Head: to 80meter
200—Discharge size (mm)
F—Frame type
Operating Parameters:
Discharge size: 100 to 450mm
Capacity: to 5400m3/h (10 to 1500L/S)
Head: to 80meter
Detailed description:
1)       Cantilevered, horizontal, centrifugal, one stage, single casing slurry pump
2)       High head, high efficiency.
3)       Good NPSH performance.
4)       Widely application: They are designed for handling more abrasive with solids slurries in the river dredging, Sand reclamation, Sugar beet and other fields.
5)       Long bearing life: The bearing assembly is with large diameter shaft and short overhang.
6)       Wear resistant wet parts: The wet parts are made of hard metal (26-35% Chrome alloy Iron).
7)       Simple maintenance throat-bush: the mating face of the throat bush is tapered, so the wear is reduced and removal is simple.
8)       Easy adjustment of impeller: An impeller adjustment mechanism is provided below the bearing housing.
9)       Centrifugal seal, mechanical seal and packing seal are available.