Titanium Vacuum Pumps
Manufacturers & Exporters of Titanium Vacuum Pumps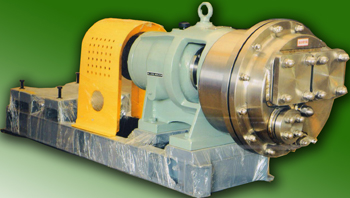 Devi Liquid Ring Vacuum Pumps are versatile , Horizontal Rotary Machines in which the Liquid is made to act as Piston.
Range : Capacities ranging from : 40 to 600 m3 / hr.
Application :
For handling Aggresive Gases or Vapours ( Chlorine , Argon etc.) In industries like Chloro Alkali and Allied Industries, Pulp and Paper Mills, Chemical Industries.
Design Features:
Horizontal , Single stage, Axial Flow, Pedestal type, with one rotating part i.e, Impeller / Rotor. The Rotor is supported by a pair of Angular Contact Ball Bearings and Roller Bearings.The Axial clearance can be adjusted very easily in these pumps.
Seal Liquid:
The Liquid will vary depending on the gas to be Evacuated / Compressed.
Shaft Sealing :
Packed Gland or Single / Double Mechanical seal Depending on the process requirement and customer choice.

MOC : Alternatively we can supply these Vacuum Pumps with wetted parts in Hastle Alloy C , Alloy 20 , Stainless Steel , Carbon Steel depending on system requirements.